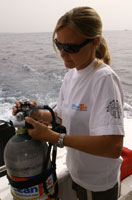 ..
It wasn't all plain sailing, however, and the months building up to this final, record breaking dive were fraught with problems obtaining equipment, permissions, insurances and all the assurances that are necessary when attempting such a feat. Assembling an elite support team of 'Oceans Angels' Tec divers, sourcing the specialist equipment required, having a hyperbaric emergency medical unit a mere 15 minutes away by fast RIB, and finding a video camera capable of recording at such depths are possible only in somewhere like Sharm El Sheikh. The local Tec diving community banded together in her support and finally all the pieces of the puzzle came together. Tec support divers from all over the world, some flying in especially for this project, trained and worked alongside local Tec divers and emergency medical facilities, all bonded by their love of exotic, expensive gasses and the mysteries of the deep, deep blue sea.
The Jolanda 160 Project aimed to complete a safe and successful dive to a depth of 160 metres on the wreckage of the Yolanda, while securing the 'Women's Deepest Wreck Dive World Record', previously held by Adina Ochert with a dive to 144 metres on CCR.
Nina Preisner, is a TDI technical Instructor working full-time in Sharm el Sheikh. Three years ago Nina took a career break from law and moved to Sharm El Sheikh, South Sinai, Egypt, to pursue her love of diving. She has yet to return to her original career!