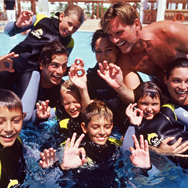 .






The PADI Bubblemaker Course is an excellent way for children from 8 years of age to
experience scuba diving safely in a pool.
Children should be comfortable in the water, but they don't have to be super swimmers.
With youngsters in mind, the maximum depth is only 2 metres
They'll get a chance to learn about and use SCUBA equipment, experience what scuba diving is like
under the direct care and supervision of professional instructors and take
their first breaths underwater.
Certified Bubblemakers can then continue the adventure by taking part in a series of AquaMissions
during the Seal Team program